My name is John-Paul, I was born in the Philippines and came to the U.S. when I was nearly 5yrs old in 1986. I was introduced to Lego at the age of 4, when my aunt sent me a Lego set from the USA about a year prior to moving from the Philippines.
I work for LEGO at LEGO Brand Retail (aka LEGO Stores); currently in the Rockefeller Center LEGO Store in New York City.
My LEGO collecting went from playing around with Castle, Town/City, Pirates, and Space when I was younger. I started to focus more and more on Castle during my late elementary and highschool years. Then in my college years I became fascinated with global politics and the military. I then found myself building creations branching into two themes: "Ancient" and "Modern". The Ancients Theme was to me a more epic version of the Medieval era Castles, while the Modern theme was basically 1/40 scale City/Town theme with the military forces thrown in.
However around 2004, as I got into a... more open minded state with regards to certain possibilities in the geo-political sense... I merged the two Ancients and Modern themes and using games like Age of Empires as inspiration, branched out several more time periods in between as well as put elements from my favorite science fiction shows/stories and created an epic story and universe I call ORIGIN.
Now I use LEGO to have a tangible visualization of the people, places, and objects from my ORIGIN universe. The ORIGIN story is an epic and it is spread out through several millennia, hence the multiple time periods covered by my LEGO collection.
My family and friends all know of my Lego hobby and accept it as a part of who I am. The way I see it: for some it is simply a hobby, for others its a mere "toy", but to me and a few others out there LEGO is an art medium.
Visit my BrickShelf galleries to see my creations.
My BrickShelf gallery
Seal of the People's Guard
People's Federation of China: Type-245 "Dadao" (meaning: "Great Sword") Ground Assault Tank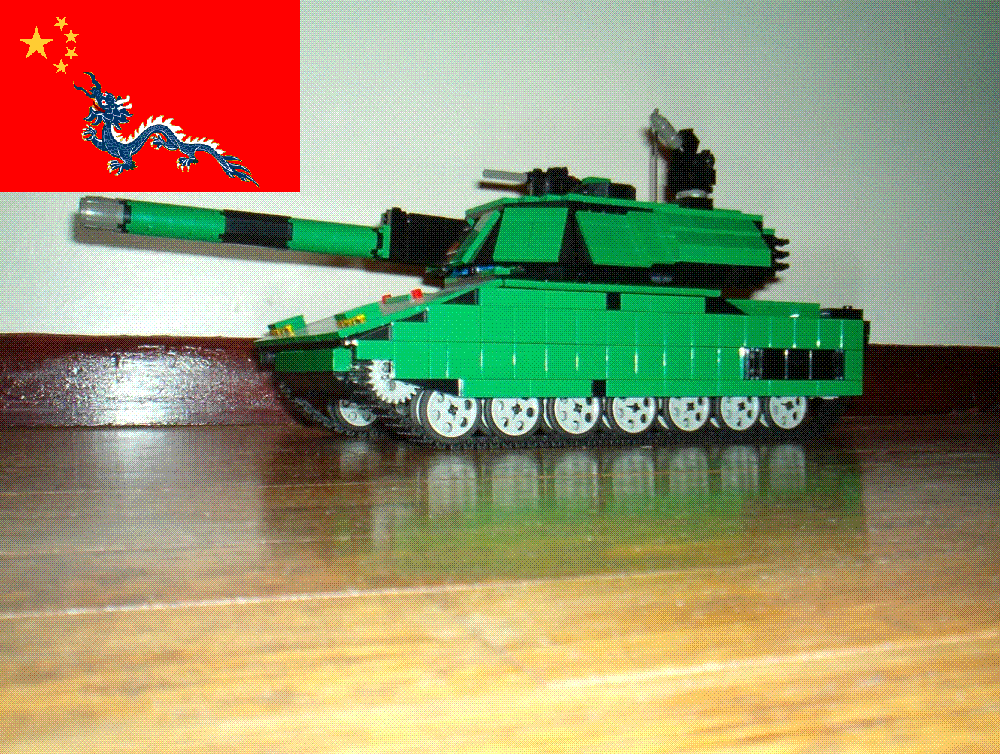 My Ancient Era and Medieval Era armies circa 2004. (1,236 minifigs)
My LEGO Earth Civilization armies are arranged in this manner:

EARTH (time periods)

Colonial (unknown, sometime before 10,000 BCE)

Legendary (10,000 BCE - 2500 BCE)

Archaic (1800 BCE - 1000 BCE)

Classical (1000 BCE - 250 BCE)

Great Empires (250 BCE - 500 CE)

Medieval (500 - 1000)

Late Medieval (1000 - 1500)

Enlightenment (1500 - 1800)

Industrial (1800 - 1900)

Great Wars (1900 - 1960)

Information (1960 - 2030)

Digital (2030 - 2150)

Exploration (2150 - 2500)

Galactic (2500 - 8000)

Quantum (8000 - beyond)

I also have in my collection of minifig armies, factions which are Humans from other worlds/civilizations. In addition there are factions of races/species across the many galaxies of my ORIGIN universe.


The "Weight Classes" of each LEGO Army and their MINIMUM amount of units
TMI - Tribals/Militias/Insurgents = 50 units
SNK - Small Nation/Kingdom = 200 units
MNK - Medium Nation/Kingdom = 400 units
LNK - Large Nation/Kingdom = 600 units
SEN - Spanning Empire/Nation = 800 units
GSP - Global Super Power = 1,000 units


Earth Civilizations and color schemes:

ARCHAIC ERA
Babylon =
Tocharian =
Hsia =
Hittites =
Khemet =
Hyksos =
Harappa =



CLASSICAL ERA
ASIA
Tarkan =
Levant =
Hsiung Nu =
Shang =
Chernyakov =
India =
Siam =
Khmer =
Malay =
Yayoi =
Koguryo =
Persia =
Beduin =
Vietnam =

EUROPE
Britons =
Roma =
Hellena =
Gauls =
Iberia =
Germania =
Dacia =
Magyars =

AFRICA
Egypt =
Carthage =
Bantu =

AMERICAS
Iroquois =
Maya =
Inca =



MEDIEVAL ERA
ASIA
Turks =
Palestine =
Mongols =
Tang =
Kiev =
Arabia =
Persia =
India =
Siam =
Khmer =
Malay =
Japan =
Korea =
Vietnam =

EUROPE
Britons =
Italy =
Byzantium =
Vikings =
Franks =
Spain =
Holy Roman Empire =
Romania =
Hungary =

AFRICA
Egypt =
Moors =
Bantu =

AMERICAS
Iroquois =
Maya =
Inca =

-

ENLIGHTENMENT ERA
ASIA
Ottoman Turks =
Palestine =
China =
Russia =
Arabia =
Safavid =
British-India =
Siam =
Khmer =
Malay =
Japan =
Korea =
Vietnam =

EUROPE
Britain =
Venice =
Scandinavia =
France =
Spain =
Holy Roman Empire =
Romania =
Austria-Hungary =

AFRICA
Egypt =
Algeria =
Zulu =

AMERICAS
United States =
Iroquois =
Maya =
Inca =



INDUSTRIAL AGE
ASIA
Ottoman Turks =
China =
Russia =
Arabia =
Kafar Persia =
British India =
Siam =
French Khmer =
Malay =
Japan =
Korea =
French Vietnam =

EUROPE
Britian =
"Light" =
France =
Spain =
Germany =
Scandinavia =
Romania =
Austria-Hungary =

AFRICA
Egypt =
North Africa =
Zulu =

AMERICAS
United States =
Latin America =



MODERN ERA
ASIA
Turkey =
China =
Soviet Union =
Qajar Iran =
Arabia =
British India =
Thailand =
Malaya = Dark Red, Red, Black
Kampuchea =
Japan =
Vietnam =
Australia =

EUROPE
Great Britain =
Italy =
Germany =
Spain =
Scandinavia =
Romania =
Hungary =
Greece =

AFRICA
Egypt =
North Africa =

AMERICAS
United States =
South America =



INFORMATION ERA
ASIA
Turkey = Purple, Black,
China = Black, Dark Brown, Dark Grey
Russia = Dark Green, Sand Green, Brown, Dark Tan
~Makhra -
~V.D.V -
~Spetsnaz -
Iran = Medium Blue, Brown, Light Grey
Iraq = Green, Brown, Black
Arabia = Tan, White, Green
~Saudi National Guard -
~Saudi Royal Guard -
India = Orange, Red, Brown
Pakistan = Dark Orange, Orange, Brown
Malaya = Dark Red, Black, Red
Thailand = Red, Black, Brown
Cambodia = Green, Brown, Black
Korea = Red, Black, White
Japan = Black, Dark Grey, Red, White
Vietnam = Red, Dark Blue, Tan
Australia = Pink

EUROPE
Britain = Red, Black, Tan, Light Grey, White
Italy = Light Grey, Red, Brown
France = Blue, Dark Azure, White, Light Grey
~FELIN Fusillier -
~Chasseur -
Spain = Dark Red, Blue, Brown, Light Grey
Germany = Dark Blue, Blue, Dark Grey, Light Grey
~Jagertruppe -
~Landsknecht -
Scandinavia = Dark Blue, Light Grey
Greece = Dark Red, Brown, Black
Portugal = Red, Blue, Light Grey
Poland = White, Red, Light Grey
Romania = Olive Green, Black, Dark Red
Hungary = Green, Red, Brown
Ukraine = Sand Green, Dark Green, Tan

AFRICA
Africa = Green, Tan, Brown
Egypt = Dark Blue, White, Tan

AMERICAS
United States = Blue, Dark Tan, Light Grey
Mexico = Dark Blue, Lime Green, Red
Brazil = Medium Blue, Black, Yellow
Domican Republic = Lime Gree, Dark Red
Haiti =
Cuba =

GLOBAL
United Nations = Azure Blue



DIGITAL ERA
Alliance of Sovereign Nations
People's Federation of China = Black, Dark Brown, Dark Grey
Novaya Russia = Dark Green, Sand Green, Brown
Persian Republic = Medium Blue, Brown, Light Grey
Arabian League = Tan, White, Green
People's Republic of Malaya = Dark Red, Black, Red
Free States of America = Blue, Dark Tan, Light Grey
Brazil = Lime Green, Dark Bley, Green
Caribbean = Medium Blue, Black, Yellow

Regional Civil Resistance Forces
American Resistance = Blue
Asian Resistance = Red
Indian Resistance = Orange
Western European Resistance = Sand Blue
Easter European Resistance = Sand Green

World Union Overwatch & Zone Peacekeeping
World Union = Black, Light Grey, Azure Blue
European Zone = White,
Pan-Asian Zone = Red,
African Zone = Green,
Russian S.A.Z. = Dark Green
Middle East Zone = Tan
Southeast Asia S.A.Z. = Dark Red
South American Zone = Lime Green,
North American S.A.Z. = Blue,
China S.A.Z. = Black,
India S.A.Z. = Orange,

(Special Administrative Zone, areas with increased global security enforcement)



EXPLORATION ERA
Earth Coalition - Sol System

Earth Homeworld
China = Black
Russia = Dark Green
Malaya = Dark Red
European Alliance = Light Grey
Middle East Pact = White
South American States = White-Violet
Asian Consortium = Red
India = Orange
North American Republics = Blue
Pan-Africa League = Green

Lunar Colonies

Martian Colonies

Ganyemede Colony

Extra-Solar Planetary Colonies
Gliese System Colony =
Proxima System Colony =
Alpha Centauri System Colony =
Epsilon Eridani System Colony =



GALACTIC ERA
The Utopium
-Arid planets = White
-Temperate planets = Dark Grey
-Fleet = Black



QUANTUM ERA
Humanitarum





<object width="480" height="300"><param name="movie" value="http://www.youtube.com/v/3BsBOlWUcNU&autoplay=1"></param><param name="allowFullScreen" value="true"></param><param name="allowscriptaccess" value="always"></param><embed src="http://www.youtube.com/v/3BsBOlWUcNU&autoplay=1" type="application/x-shockwave-flash" allowscriptaccess="always" allowfullscreen="true" width="480" height="300"></embed></object>




Track: "March of the Empire" ~ Jesper Kyd from the Freedom Fighters game soundtrack